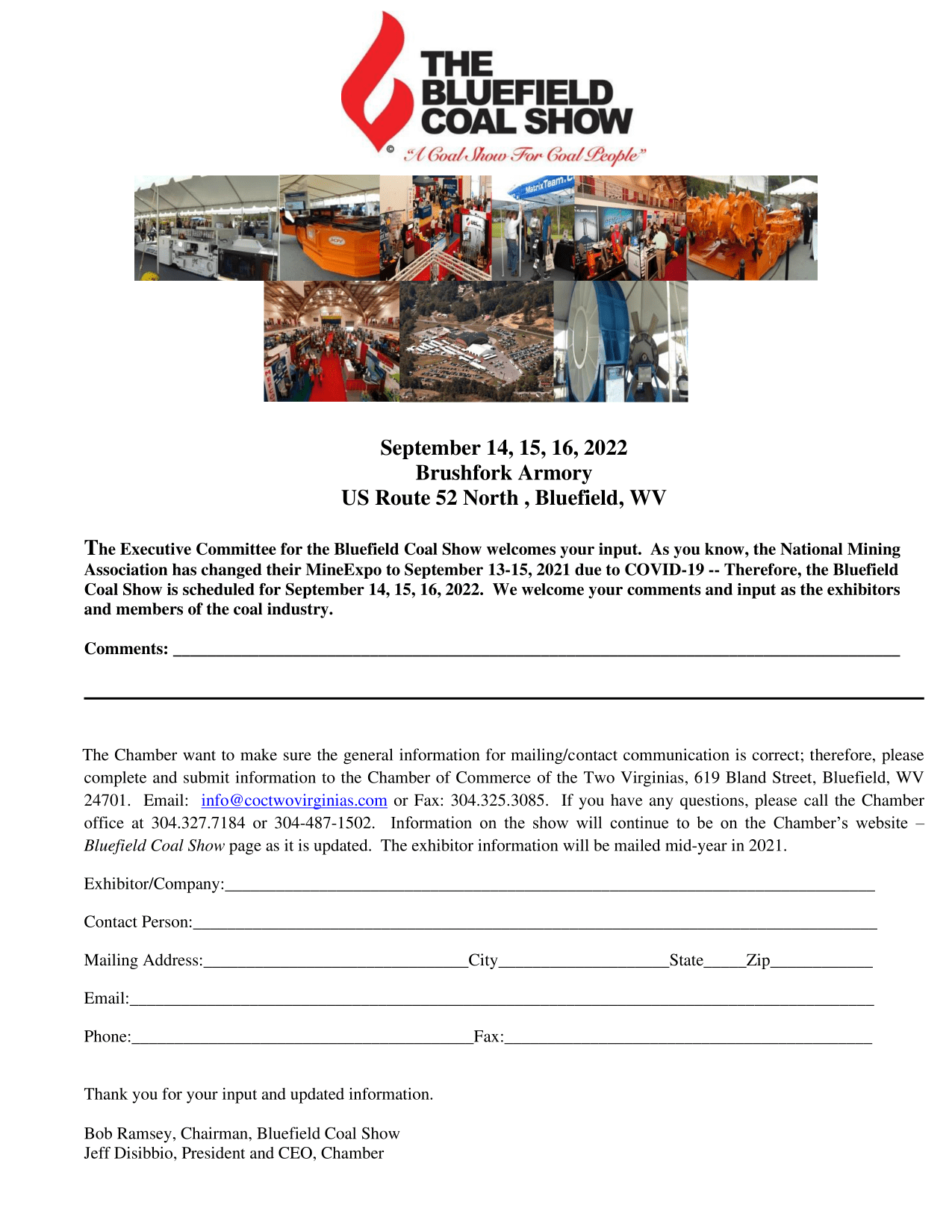 The Bluefield Coal Show, brought to you by the Chamber of Commerce of the Two Virginias, has a new date.  The biennial event, originally scheduled for September 15-17, 2021 has been rescheduled to avoid any conflict with the revised date of the National Mining Association (NMA) show.  We were notified by the officials of the National Mining Association, that due to the COVID-19, MINExpo INTERNATIONAL® 2020 was forced to reschedule and would conflict with the Bluefield Coal Show dates in September 2021.

After considerable discussion with many of the 2019 exhibitors, the service providers, and the Bluefield Coal Show Executive Committee; the Chamber will reschedule the Bluefield Coal Show to September 14-16, 2022 according to Bob Ramsey, General Chairman for the Bluefield Coal Show.  We understand many of the exhibitors have already contracted with the MINExpo INTERNALTIONAL® for 2020 and will be exhibiting at the September 2021 show in Las Vegas. 

With the change in dates, the National Mining Association has agreed to support the Bluefield Coal Show 2022 event and will be working in conjunction with us on advertising, exhibit space and promotions, as confirmed by Bob Ramsey.  If you plan on attending MINExpo INTERNATIONAL® in 2021, please stop by The Bluefield Coal Show booth and say hello. The Bluefield Coal Show will provide contracts and promotional information in mid-2021 for the September 2022 Show.  As always, exhibitors in the 2019 show will receive their exhibitors' packet two months in advance of being mailed to prospects.  Additional information will be available on our website, www.coctwovirginias.com and the Bluefield Coal Show site, https://www.coctwovirginias.com/2019-bluefield-coal-show.  Information will continue to be posted on these sites until the show.

The Bluefield Coal Show would like to thank all of our longtime exhibitors for their support and understanding through this difficult time that has required rescheduling.

If you have questions, and/or need additional information, please contact the Chamber at: [email protected]; Bluefield #304-327-7184 and Princeton #304-487-1502.